If you own an iPhone you know it's a pretty versatile device. It makes calls, sends texts, plays music, surfs the Web and shoots pictures and videos -- just to name a few of its features. If you've got Siri it can even talk back to you. It can also function as a remote control for a variety of devices when you add a few apps from the App Store.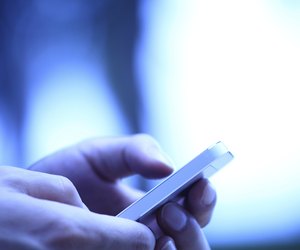 credit: fatesun/iStock/Getty Images
Apple TV
Apple's Remote is a free app that allows you to control your iTunes library on your computer and your Apple TV with a simple tap of your finger. Remote utilizes the same interface you're already using to browse music and videos on your current Apple devices. This makes it easy for you to scroll and navigate movies or TV shows from your iTunes library. All you've got to do to cruise new movies or TV shows, YouTube Videos or even Netflix selections (Netflix subscription required) is use the Gestures function (see link in Resources).
Xbox One Smartglass
Xbox One Smartglass is also a free app available for download from the Apple App Store. When used in conjunction with your Xbox One, you'll be able to control your set top box and browse the Web on your TV. Your iPhone functions as a remote control and interactive viewing companion. Smartglass allows your iPhone (or other second screen devices, like tablets) to provide programming guides, commentary, and other extended viewing options, so you can interact with your program content in real time (see link in Resources).
Cable Provider Apps
Your iPhone can also operate most cable boxes with the appropriate apps from the App Store. Xfinity TV Remote is a free app that lets you view Xfinity On Demand and expanded TV listings. You can also use your phone to program your DVR when you're out of the house.
Time Warner Cable Subscribers can also use their iPhone to control TV and DVD functions with the free TWC TV app. TWC TV allows On Demand viewing, as well as DVD programming and viewing.
Verizon's FiOS Mobile is a free app that features live streaming of TV channels in and out of the house. The app allows remote control of your FiOS TV, management of your DVR and viewing of TV listings (links to all in Resources).
Satellite Provider App
If you've got DirecTV, remote control with your iPhone is just a download away. The free DirecTV app lets you stream live TV anywhere in the home or watch movies or shows on demand, whether you're at home or not. DVD programming or viewing is also available, as is the voice command feature that changes channels or records and plays programming. You can also use your iPhone as a portable TV to watch shows in other rooms around the house (link in Resources).
Third-Party Apps
There are also a large number of third-party apps that can turn your iPhone into a remote control, many of these are available from TV manufacturers, like Samsung, Sony or LG, directly or through the App Store. Your iPhone is capable of providing an incredible amount of connectivity with your TV or other multimedia devices. Visit the Apple website for tips on how you can expand your iPhone experience (links in Resources).