Symphonic manufactures a line of flat-screen TV sets equipped with a variety of connection jacks for hooking up audio-video components, such as a DVD player. Watching a DVD on the Symphonic TV first requires connecting a DVD player using one of the composite AV inputs on the television. Symphonic TVs have composite (RCA-type) jacks on the rear panel and many models are equipped with jacks in the front, below the screen, as well.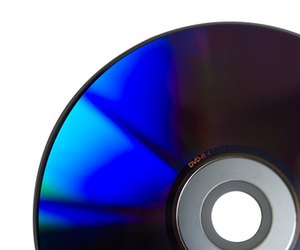 Step
Insert the three plugs on one end of the composite cable into the matching yellow, white and red AV output jacks on the back of the DVD player, then connect the plugs on the other end to the AV inputs on the Symphonic.
Step
Plug in the power cords to a wall outlet and turn on the equipment, then press the Symphonic's remote control "Input" button repeatedly until the DVD image appears on the TV screen.
Step
Press the "Open" or "Eject" button on the front of the DVD player to insert a DVD into the tray with the shiny side of the disc facing down. Close the tray.
Step
Press the up and down arrow keys on the DVD remote control to highlight and press "Play" to start disc playback.