With conveniences like ordering online and free delivery and pickup, Netflix has revolutionized the way we rent DVDs. Their newest breakthrough are movies that stream to your computer and only take a few minutes to download. However, a computer is not the ideal place to watch your favorite movies. In this article, you will learn how to watch the movies Netflix sends to your computer, on your TV.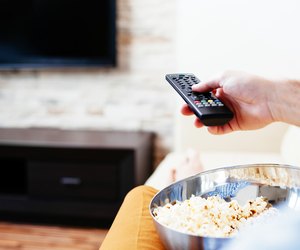 credit: BartekSzewczyk/iStock/Getty Images
Instructions
Step
Download the movie you wish to watch from Netflix online.
Step
Plug one side of the S-video cable into the port on the side of your computer, and the other side into the back of your television. If you have a Mac, you will likely have to use an adapter that converts the standard Mac video output to S-video. Your computer should adjust automatically.
Step
Plug the 1/8 end of the audio cable into the headphone port on your computer. Plug the red and white RCA end of the cable either into the back of your television in the input next to the S-video cable, or into a stereo through which you want to play the sound.
Step
Change the input of your television until you can see your computer's desktop.
Step
Start playing the movie, and display it as full screen.