Charter digital video recorders (DVR) allow users to record television programs. Unlike a VCR, which for years was the standard television recording method, programming from a DVR is not recorded to a cassette but a hard drive built into the machine. DVR units are loaded with options, which allow users to customize how they record their programs. Once recorded, you can view a list of the recorded programs, read information about them and watch the programs at your convenience.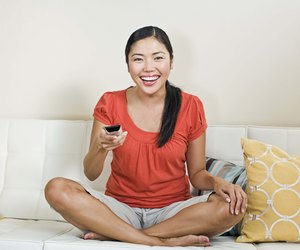 credit: Jupiterimages/Brand X Pictures/Getty Images
Step
Turn on your television and the Charter DVR unit.
Step
Open your list of recorded television programs by pressing the "MY DVR" button on the remote control. You can also access the list by pressing the "Menu" button then selecting the "DVR" option.
Step
Select the program you want to watch with the Up and Down arrow buttons then press the "OK" button. Information about the program will appear on the screen.
Step
Play the program by selecting the ">" icon. The program will continue from where you left off if you've watched part of the program before or from the beginning. If you've watched part of the program and want to start playback from the beginning, select the "|<" icon.
Step
Control the program's playback with the remote control. Pause playback with the "Pause" button, rewind with the "Rewind" button and fast forward with the "Fast Forward" button. If you want to stop watching the program, press the "Stop" button.