Cricket Communications is a cell phone service provider that operates using monthly, flat rate plans, as opposed to yearly (or bi-yearly) contracts. It is a subsidiary of the company Leap Wireless International, and was established in 1999. And while having a no-commitment, month-to-month plan has its advantages, Cricket cell phones also have their disadvantages (which include the $15 activation you have to pay to get started).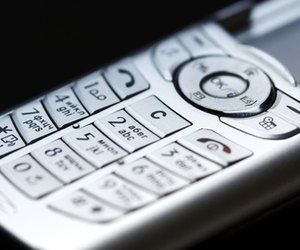 Coverage
Cricket cell phone plans are not available in all 50 states. For up-to-date information on what states Cricket provides coverage to, visit the link provided with this article.
Monthly Plans
According to prepaidreviews.com, Cricket offers six different monthly plans, which increase both in price and features as you move up the line. A definite pro of the Cricket service is that all of those plans include unlimited, anytime minutes (which means you can talk all day, all night, any day of the week, without having to worry about extra charges). Another advantage of using a Cricket phone—according to reviews.CNET.com—is that signing up for a plan does not require a credit check.
Features
One problem with the Cricket service is that some features that we would consider cell phone norms are not included with their most basic phone plan. While caller ID is standard with all plans, you'll have to bump up to higher costing plans in order to get voicemail, three-way calling and call waiting, according to prepaidreviews.com. In addition, while Web browsing is possible with some of the more expensive plans, music downloading and streaming video is not possible with any of them.
Pay-As-You-Go
Cricket also has a pay-as-you-go option, known as PAYgo, according to prepaidreviews.com. Under this plan, you pay a low flat rate only on days that you use your phone. PAYgo is perhaps best suited for individuals who use their phones only for emergencies or otherwise infrequently. Like the monthly plans, there are different levels of PAYgo plans that increase in features as they increase in price.
Roaming/Long Distance
According to reviews.CNET.com, the most basic monthly and PAYgo Cricket plans do not include long distance calls, so you are charged a small fee per minute of long-distance conversation. Also, because of Cricket's lack of coverage in all 50 states, you may run into roaming problems (when you use your phone outside of the specified coverage area). This also means you will have to pay extra, per-minute fees.
Hardware
Cricket cell phone plans are not available with smart phones, such as iPhones and Blackberries. However, there are some Cricket compatible phones that feature full-alphabet keyboards, cameras and other "smart" technology.