Graduation season is upon us! Instead of gifting a card and some cash, take a look at the latest gadgets sure to put a smile on any graduates face. Whether she is obsessed with music, or he's traveling out of state for school, we've found gifts for everyone.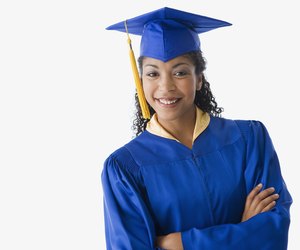 credit: Jose Luis Pelaez Inc/Blend Images/Getty Images
Related:
Automatic
credit: Image Courtesy of Automatic
The instant a check engine light comes on, anxiety usually follows. The reason for the light can be anything from a loose gas cap to something more serious, like a misfiring cylinder.
Enter Automatic ($99), a small adapter that lives in your car's diagnostic port. Using Bluetooth to connect to a smartphone, it can send alerts when issues arise.
Automatic can help your grad save money on gas by scoring his or her driving habits. And it can send a text message to a contact should the airbags deploy.
Related: Click here to read more about Automatic.
Brightech Spider Jump Starter
credit: Image Courtesy of Brightech
Road trips are a natural experience of any memorable college experience. And jumper cables have long been a staple in any emergency car kit from Dad, but there's an inherent problem with them: they require another car to be present.
Stranded in the middle of an isolated highway? You're going to be waiting.
The Brightech Spider ($79) is a portable battery capable of charging a smartphone, laptop, or -- more impressively -- even jump starting a car.
Related: Click here to read more about the Brightech Spider car jump starter.
Midland ER300 Emergency Flashlight
credit: Image Courtesy of Midland
A flashlight is a must-have for most emergency situations.
Instead of relying on a battery powered flashlight (let's face it, batteries go bad or we "borrow" them to power something else and forget to replace them), stowing a flashlight that can be powered by the sun or a hand crank is ideal.
The Midland ER300 ($43) doubles as a portable radio, an external battery for charging a smartphone (also important in emergencies), and even a Morse code SOS light.
Related: Click here to read more about the Midland ER300.
August Smart Lock
credit: Image Courtesy of August
The August Smart Lock ($249) makes it nearly impossible for your new grad to lock himself out of his apartment.
The brains of the lock replace the interior portion of the deadbolt. Using a Bluetooth connection to a smartphone, you can unlock your door just by walking up to the door.
Digital keys can be created and shared with friends, family members, or repair technicians on a timed basis.
Just walk up to the door, it unlocks, and walk into your home.
Related: Click here to read more about the August Smart Lock.
Simplicam
credit: Image Courtesy of Simplicbam
Simplicam is a $149 security camera (of sorts). After connecting it to your Wi-Fi network, you can view a live video stream from your smartphone or computer.
Furthermore, Simplicam offers facial recognition and can send you alerts if, say, your roommate enters your room when you're not around.
Then you can yell at him or her using the camera's two-way talk feature.
The ability to save recordings and receive face-detection alerts does require a subscription, ranging anywhere from $4.99 to $22.99 per month (included in the cost of the camera for the first year).
Related: Click here to read more about Simplicam.
Roku 3
credit: Image Courtesy of Roku
Streaming movies and TV shows is the future, not to mention cheaper than a cable subscription.
Gift a $99 Roku 3 set top box to a recent graduate, and he or she will thank you.
Roku offers different apps and services that provide access to numerous services and channels — 2,000 in total. Additionally, users can display photos and videos stored on a smartphone on his or her TV through the Roku.
And as a bonus feature, you can even connect headphones to the Roku remote to quietly watch a show without waking roommates.
Related: Click here to read more about Roku 3.
Anker Family-Sized Charger
credit: Image Courtesy of Anker
With the sheer amount of electronic devices we all use on a daily basis, outlets and charging adapters are often in short supply.
Anker, a company who specializes in charging your devices, has a solution that's perfect for a college dorm or a shared apartment.
The 6-port charger requires only one outlet, and offers the capability to charge anything from a smartwatch to a tablet with its PowerIQ tech. And it costs just $36.
Related: Click here to read more about Anker products.
Pebble Time
credit: Image Courtesy of Pebble
A smart watch is a convenient way to monitor your smartphone for alerts without actually having to touch your phone.
Apple has its watch, Google has a slew of watches; yet either solution is limited to only working with one smartphone platform (iOS or Android).
The Pebble Time ($199), on the other hand, works great no matter which kind of phone your graduate prefers. It will work with both Android and iOS, displaying messages and alerts from either platform. Indeed, many prefer the Pebble because it is more flexible than either iOS or Android watches, able to show more kinds of notifications.
Related: Click here to read more about Pebble Time.
Sonos Play:1
credit: Image Courtesy of Sonos.
Music and college go together like peanut butter and jelly. Which is why a Sonos Play:1 is a solid graduation gift for $199.
Don't let the small stature of this speaker fool you. It's full of power, and ready to rock out.
The Sonos Play:1 connects to a Wi-Fi network where it can stream from popular music services, or a music library stored on your computer.
Playback, volume, and playlist creation is all done from your computer or smartphone using the free companion apps.
Related: Click here to read more about the Sonos Play:1.
Anova Precision Cooker
credit: Image Courtesy of Anova.
Sous Vide is slowly creeping into more household kitchens due to user friendly nature. In summary, sous vide heats, then circulates water around food sealed in a plastic bag.
The fact the water never goes above a user defined temperature means steaks are cooked to your desired doneness without the stress or guesswork of when to take the meat off the grill.
The Precision Cooker from Anova costs $179 and pairs via Bluetooth to a smartphone, displaying the temperature of the water and cooking time.
This is a perfect gift for a novice chef and seasoned chef alike.
Related: Click here to read more about the Anova Precision Cooker