If your iPhone is frozen with the iTunes logo, this is most likely because you need to sync it with iTunes on your computer. If the image of a USB cord appears beneath a blue iTunes logo, the phone is telling you to plug into iTunes on your computer using the sync and charge cable provided.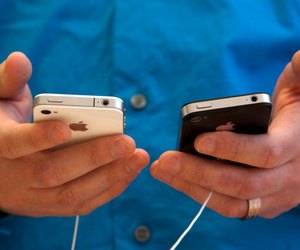 iTunes Sync
All iPhones require an initial setup and sync through iTunes on your computer as of June 2011. This will not be necessary after fall 2011, but any phone running the operating system released prior to iOS 5 requires this step. Plugging your phone into iTunes sets up all your iTunes account information on the phone, allowing you to purchase apps and share your music library. Without performing this step, you cannot use the phone because the operating system is not configured.
Initial Setup
Download the free iTunes software onto your Windows or Mac computer and create an iTunes account. This requires a credit card or other payment method such as a PayPal account, which iTunes keeps on file for purchases. Even if you only intend to use free apps, you need to set up this account. Plug the phone into a USB port on your computer once the software setup is complete. ITunes automatically recognizes the phone and begins the setup and sync process. After this is complete, your phone displays a welcome screen rather than the iTunes logo.
Upcoming Features
Apple announced many new iPhone features at its Worldwide Developers Conference in 2011. Among these was the "PC Free" feature, which will allow you to set up new iPhones and other iOS devices without syncing with iTunes on your PC. When this software releases in autumn of 2011, you will no longer get the frozen iTunes logo on a new iPhone because the sync process won't be necessary. Until then, however, you must set up and sync your phone through the computer.
Other Causes
If the frozen iTunes logo is pinkish instead of blue and there is no USB cord icon, your phone may have encountered a problem loading the iTunes store or software. In this case, press the sleep/wake button at the top of the phone and hold it until the power-off slider appears. Slide your finger over this to shut down the phone completely. Wait a few minutes, then turn the phone back on. This should resolve the problem.