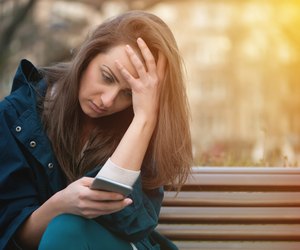 credit: roshinio/iStock/GettyImages
A new smartphone attachment could help save your life if you ever find yourself in danger. The Aluma Connect, created by Aluma Innovations, is a new product designed to help anyone who finds themselves in a sketchy situation and needs help escaping.
It's a personal safety device that attaches to the back of your smartphone. Through the corresponding app, the device sends out a distress signal to a group of five contacts you've pre-selected. The device is the first of its kind, and could be extremely beneficial in removing yourself from a situation you're feeling threatened by. The goal of the company is to "empower you to live your life with confidence and peace of mind."
According to the National Sexual Violence Resource Center (NSVRC), one in five women and one in 71 men will be raped at some point in their lives. And 80 percent of sexual assaults are committed by someone close to the victim. So for the device to be affective, it's important to always have it with you — which is why having the device mounted to your smartphone will be incredibly effective.
The Aluma Connect is only eight millimeters thick and offers two different alarms. One is an extremely loud siren, which can be activated by pulling a wristband. The other is a silent alarm that can be set off by sliding a small button on the back of the device.
Both options immediately notify your "social safety network," the group of five people chosen to be your safety net. While they are notified by email or phone via the app, they don't actually need to have the app to be able to see where you are on a map. They just need access to a browser.
Once they receive the alarm, they're given the option to respond with "I cannot help" or "I can help." Your contacts can even join a conference call with each other to coordinate their plan.
The alarm is very simple to activate and it bypasses your lock screen, which is a key detail if you're in a scary situation where you can't fumble with your phone.
The Aluma Connect is available for pre-order now and will ship later in the spring. The device costs $119 with a $1.99 monthly subscription fee. The company has pledged to donate 25 percent of sales to causes working to end sexual and aggravated assault.