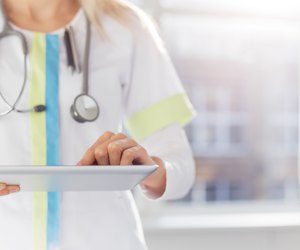 credit: grinvalds/iStock/GettyImages
In recent weeks, the scientific journals Nature and Nature Biotechnology have published studies on melanoma and Parkinson's Disease — both of which used an innovative source as an integral medical tool: the iPhone.
Often through Apple's ResearchKit, hospitals and researchers have been using the iPhone to transform the way we think about health. The ResearchKit framework allows developers to build apps designed for medical research, making it easier to enroll participants and conduct studies.
According to Apple, since its introduction, the amount of data collected and insight gained has been groundbreaking.
In the latest study published in Nature Biotechnology, scientists at Mount Sinai Hospital's Icahn School of Medicine in New York tested the use of smartphones in medical research through a study on asthma patients.
The study used the Asthma Health App to survey iPhone users who have asthma. Over 50,000 people downloaded the app, but only 7,500 people were eligible to participate and actually enrolled. And out of those people, around 2,300 completed multiple surveys about their asthma symptoms over a six-month period.
The researchers found the results to be comparable to other asthma studies, with even more information provided. Because the app has the ability to reach a tremendous amount of people, the patients end up being a way more diverse group than studies conducted in the traditional way.
"The tech part of this is perhaps more important," said principal investigator Yvonne Chan, director of digital health and personalized medicine at a Mount Sinai institute. "The more important takeaway is that clinical research has been done the same way for centuries. It really is changing, revolutionizing how clinical research is being conducted."
But, like all new methods of research, there are still some kinks to work out. The study pointed out that because participants self-reported their own data, there are often certain values missing. Plus, people tended to drop out of the study altogether, either because they grew tired of reporting their symptoms, or they just simply forgot to open the app.
"Looking forward, the potential of ubiquitous smartphone technology to address the needs of clinical research to better understand health and disease appears to be more promising than ever," researchers wrote in the study.
Despite the drawbacks, there's a lot of promise with using the technology of smartphones as a way to substantially progress medical research.