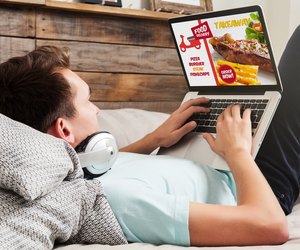 credit: Daviles/iStock/GettyImages
You can pretty much have anything delivered directly to your doorstep. That's what's so great about being an adult human in 2017. With the click of a button, you can get yourself a new couch, new clothes, toiletries, groceries, etc. forever. You can have anything you want sent to your home — and sometimes your orders can be delivered within minutes.
We've rounded up some of the best food delivery apps to ensure your belly is always full. So if you ever find yourself desperately needing someone else to do the cooking, simply log on to one of these handy apps and place your order. Food will magically appear on your doorstep usually within the hour.
Postmates
With Postmates, you can order food from almost any restaurant or store and have it delivered within minutes. It's kind of like Uber, but for food. Once you place your order, a driver is dispatched to pick it up for you.
The Postmates delivery fee is a fixed cost of $2.99 or $3.99, depending on the distance between the pickup and drop-off locations. Additionally, a 9.99% service fee is applied to the purchase price of your items. But it's all pretty comparable to other food delivery apps.
UberEATS
UberEATS partners with restaurants in dozens of cities throughout the world. This delivery company actually IS Uber, but for food. The average order takes 30 minutes — start to finish.
No need to tip — that's included in the delivery fee. You can pay with your Uber account, making the whole experience seamless and quick. And just like Uber, you can track the delivery on the app.
Grubhub
Grubhub works with more than 30,000 restaurants in over 1,110 cities. When you're feeling that twinge of hunger, simply browse local participating food joints, select what you want to eat and place your order.
The restaurant will then deliver your food (or you can opt for pickup). You won't even need to get up off the couch. Well, to answer the door you will, but that's it. There's even an option to place an order up to four days in advance.
Doordash
Doordash promises to deliver your food in less than an hour. The company is located in over 300 cities in the U.S. and Canada and partners with more than 40,000 restaurants. Search by the type of food you're in the mood for, a specific restaurant, the most popular one or by delivery speed.
There's no order minimum, so if you want to order just fries or an entire eight-course meal, the choice is yours.
Yelp Eat 24
Order food through Yelp with Yelp Eat 24. The 24 stands for 24 hours a day. So if you get a hankering for something specific at 2:00 in the morning, Yelp will have your back.
You can scan your credit card directly into the app so you don't have to be bothered with typing in numbers, and then your payment information will be saved for next time. Because they obviously get that when you're hungry, you need food now.