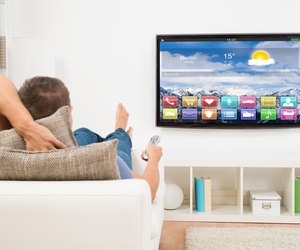 credit: AndreyPopov/iStock/GettyImages
When it comes to buying a new TV, there are certainly plenty to choose from. If you're in the market for a smart TV, finding the right one can be confusing — because the truth is, if you don't know much about smart TVs, they all kind of seem like they do the same thing.
And sure, a lot of them are pretty similar. But there are some distinct differences between the top rated smart TVs, and we're here to point those differences out. So before you make a final decision on which smart TV you're going to buy, check out this list.
5. Vizio M-Series
The 2016 Vizio M-Series has an excellent overall picture that competes well against other, more expensive smart TVs. This might be the best TV you can find for the price.
It can handle high-dynamic-range formats, and the remote is a fully functional Android tablet preloaded with the intuitive SmartCast App. But reviewers have said that using the tablet for settings and streaming apps is more of a hassle than just a traditional onscreen menus. But the quality for the price is hard to beat. It's going for $1,299 for a 65-inch on Overstock.
4. Vizio P-Series
The picture quality on the Vizio P-Series is truly incredible. In fact, it might be even better than the M-Series. This series is good for people who aren't brand conscious and can't necessarily afford the OLED (see number 3), but want something comparable.
This series has the same features as the M-Series, but with top-notch picture quality and future-ready features at an affordable price. Available at Overstock for $1,599 for the 65-inch.
3. LG OLED55E6P Ultra HD Smart OLED TV
LG's OLED TV combines remarkable contrast with the perfect ultra-thin design and exceptional sound. Not to get to technical, but each pixel produces its own color and light independent of the next one, which means the OLEDE6 series delivers levels of contrast and light control just not possible with LCD.
The only downside is the price. It's pretty expensive, but it's totally worth it if it's in your budget. Available at Dell in 55-inch and 65-inch for $2,497. But if you do some digging, you might be able to find it a little cheaper somewhere else.
2. Sony KDL40W650D 1080p Smart LED TV
An afford smart TV that does everything it should. The picture in the Sony KDL40W650D 1080p Smart LED TV is full HD with the sharpness of X-Reality PRO. With built-in Wi-Fi, you can easily access all of your apps and streaming services.
The TV itself is very slim and designed to keep the wires out of sight. It's a really good bang for your buck. Choose between a 32-inch, 40-inch, 48-inch and 55-inch, ranging between $298 and $649 on Amazon.
1. Samsung Class KS8000 4K SUHD TV
The colors on the Samsung Class KS8000 4K SUHD TV 2016 model are incredibly bright, creating a lifelike picture. And Triple Black Technology ensures you'll never miss a detail in the dark. It's a flat panel, 360 design with ultra-slim bezel. The TV automatically remasters your non-SUHD content with Samsung's unique intelligent picture engine. So basically it's magic.
One remote will take you from live TV to Smart Hub, where you can stream and gain access to your apps seamlessly. Check it out at Samsung and choose between a 49-inch, 55-inch, 60-inch and 65-inch from around $1,099 to $1,549, depending on the size.