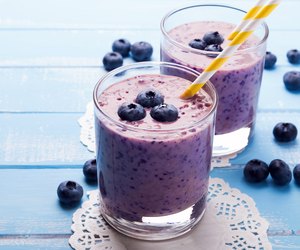 credit: Chiociolla/iStock/GettyImages
A blender can be used for blending, mixing or puréeing so many different things: smoothies, frozen cocktails, milk shakes, salad dressings, whipped cream, etc. If you're someone who's into mixing food groups together to create a delicious mesh of yumminess, a blender is a necessary tool to have in the kitchen.
You can certainly stick with a basic blender that won't break the bank, or you can majorly step up your smoothie game by investing in a high quality blender that will perform again and again in a variety of scenarios.
Here are some solid blender options:
Blendtec Designer 725
The Blendtec Designer 725 is one of the most versatile blenders currently on the market. With a 3.8 peak horsepower motor, it easily chops ice, kale, carrots, bananas — you name it.
It comes with six preprogrammed cycles: Smoothie, Salsa, Ice Cream, Whole Juice, Hot Soup and Clean. So whatever you want to blend, this blender has your back. Something a little different about this blender — the blades are dull, which makes them super safe. It's definitely on the pricey side, but if you use your blender a lot, it'll be worth the investment. Check it out on Amazon for $630.
Vitamix 7500
With its crazy powerful motor, the Vitamix 7500 allows you to blend whatever it is you want, but it's especially good for juicing. So it could potentially save you from needing a blender and a juicer.
Vitamix is one of the most highly respected companies by both professional and amateur chefs. The design is simple and it's super easy to clean. The only downside is the price. But again, it's an investment in your health and happiness. Get it on Amazon for $528.
Oster Versa Pro Series
A much more affordable blender, the Oster Versa Pro Series is probably the highest quality blender you'll find for the budget price.
It gets the job done by blending whole fruits, vegetables and more with three programmed settings: Smoothies, Dips/Spreads and Soup. Available on Amazon for $176.
Cleanblend
In the case of Cleanblend's commercial blender, cheaper definitely doesn't mean lower quality. At $200, it's certainly not a blender that will easily break, but it's far from fancy. You won't find a touchscreen or multiple attachments, but the simplicity of it makes it easy to use.
It doesn't have the power as more expensive blenders, but it does what it needs to do. You can find it on Amazon for $199.