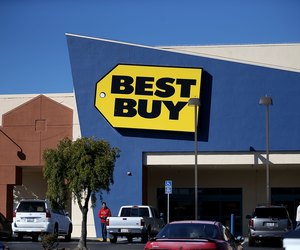 credit: Justin Sullivan/Getty Images News/GettyImages
Buying a new TV can be overwhelming, but Best Buy is willing to help out, and you won't even need to leave your house. The company is rolling out a free service next month where salespeople will make house calls to help consumers decide which electronics to buy.
The service has already been tested in five markets, and it apparently went well, because it's going to be expanded to more cities throughout the country.
But what's the point, you might be wondering? Why not just go into the store and get recommendations from a salesperson there — you know, like how shopping has always worked? Or at least used to work.
Best Buy CEO Hubert Joly said that the service is a way to unlock "latent" customer demand, according to the Associated Press. The company is the nation's largest consumer electronics retailers, and the goal is to make itself indispensable as people do more and more of their shopping online.
It's similar to the Geek Squad service, which offers tech repairs and at home installations for a fee, but this new service is completely free. The TVs, of course, are not. So, if you don't want to leave your home to buy something like a TV, a computer, a streaming service, or a smart home service, Best Buy will just come to you.