PCPW is a Windows based payroll product by ADP that is intended for use at companies that employ anywhere from one to 5,000 employees. The software is very user friendly with an easy-to-understand interface, known as the wheel. The ADP wheel gives you systematic guidance that will enable you to process your payroll without missing an important step in the process.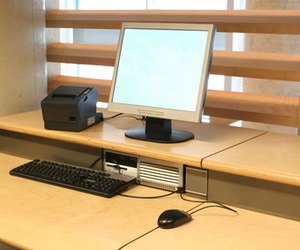 The ADP PCPW Payroll wheel will not let you go to the next step in the payroll process until you have completed the prior step. In fact, areas are "grayed" out so that you cannot skip ahead in the payroll process.
Key features
Start a new cycle. Prior to processing payroll, it's mandatory that you start a new processing cycle to reflect your current payroll processing dates.
Hire new employees. The next step in your payroll processing cycle would be to input information for any new hires; this is also where you would update any employee information for previously hired employees.
Pay your employees. It's important to input any hours worked, including overtime, in order for employees to receive a paycheck. If this step is not completed, then employees will not be paid.
Create your payroll files. Once you have input the hours for your payroll, it's imperative that you create the payroll files and check your figures prior to sending your payroll.
Send your payroll files. The final step in payroll is to send your files so that the paychecks are created. PCPW payroll's wheel has all of these steps in an easy-to-read large blue interface on the front page of the payroll software.
Various payroll processing types
There are several types of payroll that can be processed using PCPW. You can process your payroll on weekly, biweekly, semi-monthly and monthly basis. ADP PCPW makes processing various pay cycles an easy step in the process by supplying you with an easy-to-change payroll schedule. PCPW payroll also enables you to process payroll for union and non-union employees as well as hourly and salaried employees.
Multiple company codes
Large companies can benefit from the multiple company code feature of PCPW payroll. If you are a company that has several locations in several cities or states, you can assign a different company code to each location. You can also go so far as to process the different company codes on different days, and choose whether to offer employees live checks or direct deposit. PCPW can be customized for each company code that you choose to use.
Custom grids
You can use the grids supplied with PCPW when you install or you can customize your own payroll processing grids and save them for future use by company code. For instance, if you are processing payroll for a company code that pays commissions or bonuses to its employees. You can set up a customized grid that shows only commission and bonus information instead of hourly or salaried pay information. Once you give the grid a name and save it, it is available for future use.
Payroll report
Another cool feature of PCPW is the payroll reports. Once you have completed your payroll processing and uploaded the files. You will receive payroll reports that are specific to your company code. Some reports you will receive are payroll registers, new hire reports, payroll changes reports, unused deduction reports, and payroll tax reports. All you have to do is let ADP know what reports you want to receive once you have processed payroll and you will receive them the day after you send your payroll files.