Even though Apple's iPads can connect to cellular data networks, they're not true phones and lack native support for true SMS messaging. However, the Messages app from Apple and a variety of third-party apps from phone companies and other services can turn your iPad into a texting machine through a variety of workarounds.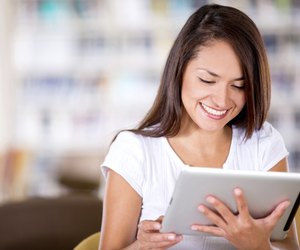 credit: Andreas Rodriguez/iStock/Getty Images
Messages
Apple's newest iPad Air and iPad Mini use iOS7 and the Messages app that incorporates Apple's iMessage texting service. The iMessage service allows you to text anyone using an iOS device or a Mac with iMessage. These texts require a Wi-Fi connection and are delivered through the Internet to other Apple devices with the iMessage service. If someone sends you an iMessage, but your iPad isn't connected to Wi-Fi, you won't immediately get that message; It'll arrive when you next connect to a Wi-Fi network.
SMS Versus iMessage
The difference between traditional SMS messages and an iMessage is that SMS messages use a cellular data network. SMS messaging is delivered through your carrier and can be sent to any device that supports SMS services. Data and messaging rates will apply to sending or receiving SMS messages, but not iMessages. On Apple's iPhone devices, both SMS and iMessage messages are sent through the Messages app. The way to tell the difference is that SMS messages will appear green and iMessages will appear blue. On your iPad, iMessages appear blue as well.
Third-Party Apps
For Web-based SMS support, you'll have to turn to third-party apps. Third-party SMS services typically require you to pay for credits to message. TextMe (link in Resources) offers 10 SMS messages for free, but you must watch videos or invite friends to gain more credits for messages. The TextPlus app (link in Resources) allows you to text and to make phone calls over Wi-Fi for either a one-time fee or a monthly subscription fee. Verizon Wireless created the Verizon Messages app (link in Resources) to send and receive true SMS messages on an iPad, if you pay for a 4G account. Verizon Messages must be tied to a Verizon Wireless phone number.
Receiving Text Messages
There are special considerations for receiving text messages on your iPad. If you use a third-party app, you'll need to give friends the phone number it provides instead of a cellphone number. These apps require an Internet connection to receive messages. For Verizon Messages and other apps from carriers, you must provide your phone number in the app's settings. This will cause both your phone and iPad to receive any SMS messages sent to your number. Apple's Messages app requires you to select the option to "Use your Apple ID for iMessage" and then you can choose to receive iMessages on your iPad.