Pandora Radio is a digital music service that streams content via the Internet to your computer or portable music player. The service is also available on digital home stereo systems that are Internet-enabled and compatible with the service. If your home stereo is not capable of accepting wireless Internet signals, you cannot receive Pandora Radio on that device. Pandora Radio also works on specific Internet-enabled televisions and home theater systems.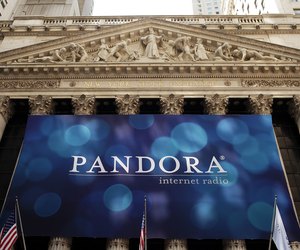 Pandora Radio Features
Pandora Radio is a subscription streaming radio service that lets you listen to music from a variety of genres. You can create your own playlists, rate songs, bookmark your favorite songs and artists. The service works with any broadband Internet connection and can stream over wired and wireless connections. When accessing Pandora Radio on your compatible home stereo system, any bookmarks you set up on your stereo system will also appear on the service's Web interface the next time you sign into the service.
Compatible Stereos, DVD Players and Televisions
The service is compatible with the following Internet-enabled home stereo and home theater brands and models: Acoustic Research's ARIR201, Cambridge Audio's NP30, Chumby, Grace Digital, Hewlett-Packard's DreamScreen, LG, Panasonic, Samsung and Sony home theater systems. Pandora Radio is compatible with the following DVD and television brands: Panasonic, Samsung and Sony Blu-Ray players and Panasonic, Sony and Verizon FiOS televisions.
Additional Devices
The service is also compatible with the following Internet-enabled standalone stereo devices: Livio Radio featuring Pandora, Logitech's Wi-Fi Music Players, Rotel's Hi-Fi Tuners, Sangean's Internet Radios, Sonoro's Elements W, Sony's Dash, Autonomic Controls' Mirage Media Servers, Boxee Box, Logitech's Squeezebox Duet, Sonos, the Sony Network Media Player, TiVo DVR, and Roku, VUDU and WD TV Live streaming media devices. If your Internet-enabled stereo brand name is not listed above, the device may not be able to accept streaming media from the Pandora service.
Signing Up
Pandora Radio is free to subscribe to and accessible by navigating your computer's Internet browser to the "Pandora" link (pandora.com/#/account/register) and completing the onscreen registration form. Click "Register for free" when you are done. You are then able to create music playlists, listen to music and set up a profile.