Making your own Wi-Fi dish antenna involves combining an old satellite dish with a USB Wi-Fi adapter and a USB cable. You reposition the large parabolic surface of the satellite dish from the radio waves of the satellite signal for TV to the 2.4-gigahertz Wi-Fi frequency. The antenna in the USB adapter gets a signal boost from the dish, so you can take advantage of the Internet for free if you're in range of public access hot spots.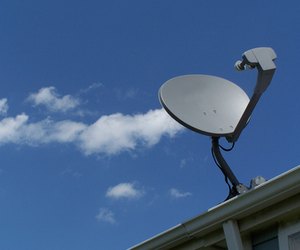 Step
Obtain a USB Wi-Fi adapter. You can find a wireless G adapter for about $15; a wireless N adapters will work faster but cost you more.
Step
Modify an unused satellite dish. Remove the LNB (low noise block) transceiver unit from the extension arm of the dish, and remove or cut any remaining coaxial cable.
Step
Attach the USB Wi-Fi adapter to the extension arm. Point the plastic end of the adapter (the antenna portion) toward the surface of the satellite dish. Secure the adapter to the extension arm with plastic ties or a metal strap.
Step
Connect a female-to-male USB cable to the USB end of the Wi-Fi adapter. Attach an additional USB cable to extend the cable length. Connect the male end of the USB cable to any standard size open USB port on a desktop computer or laptop.
Step
Mount the satellite dish on a stand or rooftop. Position the dish in the direction of known Wi-Fi hot spots or public access points.
Step
Choose the Wi-Fi connection with the strongest signal from the computer desktop. The computer will automatically find the new USB connection. Click "Connect" on the strongest available Wi-Fi connection.