As spambots use a lot of tricky methods to spam Twitter users, you can't entirely avoid them. However, you can limit the amount of interaction you have with spammy tweets and spambot accounts by taking a proactive approach to how you use Twitter.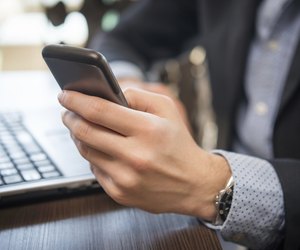 credit: Dinic/iStock/Getty Images
Learn to Recognize Spambot Accounts
You're usually dealing with a spambot account if the profile page doesn't have a profile or header image or it displays an egg icon, Twitter bird or erotic picture. Spambot accounts often lack details in their bio sections or follow thousands of people while having few or no followers. Additionally, you can learn to recognize a spambot by the content of its tweets. For example, some spambots randomly shift from topic to topic or retweet duplicate content while others talk about money-saving deals or ways to make fast money.
Use the Account Responsibly
Certain behaviors increase your chances of receiving spam on Twitter, such as buying followers or using follower trains. You also risk Twitter shutting down your account as The Twitter Rules clearly disallow these behaviors. Some third-party app developers target Twitter accounts with spam. Safeguard your account by going to your Twitter Settings screen, selecting "Apps" and then clicking the "Revoke Access" button for any apps you do not use or recognize.
Make Tweets Private
Spambots are often programmed to target accounts based on words and topics in tweets. One way you can prevent bots from scanning your tweets is by using Twitter's protected tweets feature that makes future tweets only available to people you manually approve as followers. The disadvantages of using this form of privacy is that you can't use protected tweets in public promotion efforts and your tweets and related discussions become limited to your chosen followers. To set up protected tweets, go to your Twitter Home screen, click your profile icon near the top right corner, click "Settings," select "Security and Privacy," select "Protect My Tweets," and then click "Save."
Block and Report Spambots
If you decide to have a public account, you must regularly block and report spambots to avoid a lot of spammy tweets. On your Home screen, click the name of a problematic account, click the Gear icon, select "Block or Report," choose "File a Report," select "This Is a Spam Account" and then click "Block." You should also look for and report any new spambot followers at least once a week. Click "Followers" on your Home screen and review your new followers. If an account looks like a spambot account, click its Gear icon and then block it. If you have too many followers for visual inspection to be practical, use a third-party service to help you, such as Twitblock, Fake Follower Check or TrafficLight (links in Resources).