iTunes doesn't typically offer free movies for download. However, Apple does offer free music and full-length TV shows and organizes all of this content in the Free on iTunes section of the store. The list updates weekly. If you have your heart set on free movies, other apps and websites like Crackle offer free -- legal -- streaming of select titles.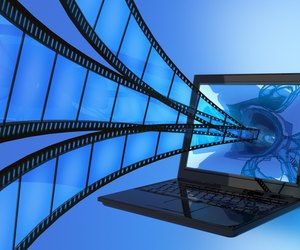 credit: cybrain/iStock/Getty Images
Free Streaming Movies
Two of the most popular online destinations for free movies are Crackle and YouTube. You can't download and save movies locally from these sites, but you can stream them online as many times as you want. Crackle's entire website and accompanying mobile app are dedicated to free movies and TV shows. YouTube has an entire movie section with an extended library of titles to rent and a specific channel of free movies. On YouTube, you can add a free movie to any playlist to save in a collection and on Crackle you can click Add to Watchlist after hovering over any title.
Free on iTunes
To see the available selection of free media on iTunes, open the program on your computer and click iTunes Store near the top of the page, then click the Music icon on the top left. Click the link on the right sidebar that reads Free on iTunes. This lists all music and TV shows currently on iTunes for free. Click Get next to any song or television show to download it. The content changes weekly.