MacBooks have a decent amount of hard drive space, but they are bound to fill up eventually. With the amount of easy-to-use software available for Macs, like iTunes and iPhoto, Mac owners will face the moment in which they must free up memory on a MacBook. However, to free up a good chunk of memory you first need to know what is taking up space on your hard drive.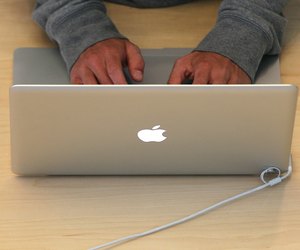 credit: Justin Sullivan/Getty Images News/Getty Images
Download Disk Inventory X
Disk Inventory X is a freeware application that allows Mac users to see what programs and files are taking up space on their MacBooks. In an easy-to-see colored graph, Disk Inventory X will allow you to view the items using space on your MacBook and let you decide what to do about them.
Delete Programs
After you've seen the break down of your hard drive's memory with Disk Inventory X, you can trash unused programs. All MacBooks come with preinstalled programs that you may or may not use. If there is a program you've never used and think you never will, throw it in the trash, as long as it isn't needed for your MacBook to work properly.
Delete Files
Some of the biggest files on MacBooks are video, photo or music files. If you want to free up space on your MacBook's hard drive, you should back up those files on a DVD or with an external hard drive and delete them from your main hard drive.
Delete Unused Languages
MacBooks come preinstalled with hundreds of languages from all over the world. Chances are you won't use all of them. You can free up space on your MacBook by deleting the language files you don't use. Monolingual, a free ware program, will remove the unused language files for you.
Run Maintenance
By running routine maintenance on your MacBook you can clear out unnecessary log files, cache files and clear out a lot of space. Mac Janitor and OnyX can both run system maintenance on your MacBook for free and clear out a number of unused files.