A handful of companies offer consumers benefits such as product discounts or giveaways in exchange for product registration. Registering your new computer online is simple and only takes a few minutes.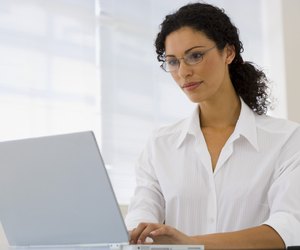 credit: Jupiterimages/Pixland/Getty Images
Step
Determine the brand name of your computer. Knowing the brand of your computer is a big clue about where to go register your product.
Step
Find the company's website. Often the manufacturer's website is printed somewhere on your computer. Examine it closely, checking labels and stickers on your computer for any hint of an email address.
Step
Visit the company's website. If there's a separate section on the site for computer support, go there. Every website is different, so navigation varies depending on where you go. Utilize search bars and site maps, typing keywords like "online registration" and "register product".
Step
Enter your information into the registration form. Oftentimes registration forms include terms of service and the guidelines of what the company can do with this information. Read carefully and only enter the information if you're comfortable. In some cases, a company will sign you up for newsletters and emails. A check box is usually found somewhere on the registration form to opt out of this option. When you finish, submit the registration to the site (there is usually a button at the bottom of the page). Now your computer is registered.