If you have a service contract with Time Warner Cable, you're eligible to set up a free email account. All you need is the ten-digit phone number associated with your Time Warner Cable account. With that in hand you can register for a TWC or RoadRunner email address that you can then access using the TWC Mail webmail service and email clients on your computer or mobile device.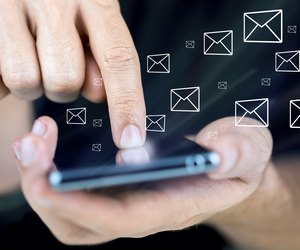 credit: Gajus/iStock/Getty Images
Step
Launch a new browser tab or window and visit the RoadRunner Username Retrieval Tool website (link in Resources). This is Time Warner's official email account-creation tool designed for customers with Time Warner Cable accounts.
Step
Enter your ten-digit phone number in the provided field and click "Submit." This number must be the one associated with your Time Warner Cable account.
Step
Answer the provided security question to verify your identity. When your identity is verified, your new email account username displays on the screen. Make a note of it as you will need it later. Click the "Create Password" button if you don't already have a Time Warner Cable password. If you do, this is the password you use to log in to your email.
Step
Log in to the Time Warner Cable Mail website using your RoadRunner username and password to begin using your new email account.