First released in 2003, purchased by eBay in 2005 and purchased again by Microsoft in 2011, Skype has changed the way people keep in touch with family and friends across the world. While it looks and feels much like a phone on your computer screen, it uses a very different technology from traditional landline phones to make calls.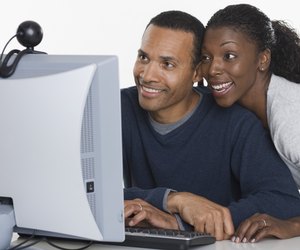 credit: JGI/Blend Images/Getty Images
Phone Meets Internet
Skype differs from a traditional landline phone in several ways. Unlike telephone service, which sends your voice as an electrical signal over dedicated phone lines, Skype uses Voice over Internet Protocol to place your call. Instead of phone lines, your voice is converted to a digital signal and sent via the Internet to the person you are calling.
The major advantage of Skype's VoIP calling is that Skype to Skype calls are free, whether the call is to someone in the next room or someone in another country. Skype also allows you to call landline and mobile phones around the world, though this service incurs a fee.
Supported Platforms and Requirements
Skype is available for PCs running Windows XP, Vista, 7 and 8 as well as Linux. Mac OS X 10.6 or newer is also supported. Speakers and a microphone are required, as is a broadband Internet connection of at least 100 kbps for voice calls. Mobile devices, including the iPhone, Android phones and tablets, BlackBerry and Windows Phone are also supported. Skype is also available on the Xbox One.