Sling Media released its first Slingbox in 2005 and currently has two boxes in its placeshifting portfolio. In entertainment terms, placeshifting is the process of watching media that you would normally view on your home TV on other devices and in other locations. What you watch remains the same; how and where you watch it changes.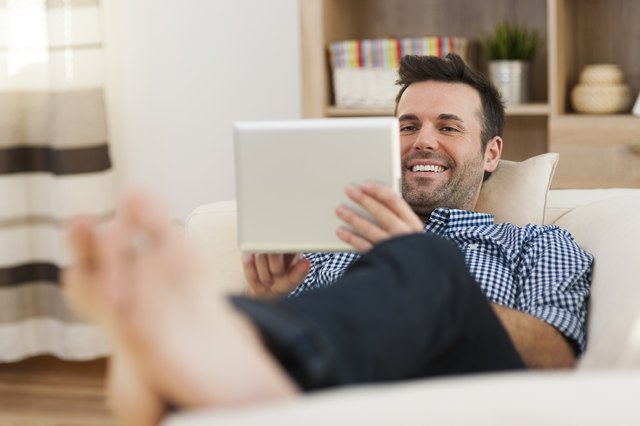 credit: gpointstudio/iStock/Getty Images
Overview of Slingbox Features
Slingbox takes signals from visual equipment, such as TVs, set-top boxes, DVRs and DVD players, and transmits them through your home network. With the right equipment and software, you can then watch shows remotely on smartphones, tablets and computers. For example, you might use Slingbox to watch a live or recorded show in any room in your home or even in the yard. If you can connect to broadband Internet, you can use the system anywhere in the world. Slingbox also has a virtual remote control, so you can do the kinds of stuff you do with your regular remote, such as set recordings and change channels.
How Slingbox Technology Works
The Slingbox connects to your visual equipment and to your home network's router. It takes the signal from your source equipment, compressing and encoding it into MPEG4. This format allows the system to stream your content with lower data rates and file sizes. It then transmits the data through your network and makes it available on the Internet. The system uses a patented Internet monitoring technology, SlingStream, which the company claims can make real-time adjustments to streaming to maintain video quality.
Slingbox Connections
At the time of publication, Sling Media markets two Slingboxes, the 350 and the 500. Although both work in much the same way, the 500 has additional features, such as Wi-Fi and HDMI capabilities. This may affect the way you set up your box. Typically, you connect the Slingbox to your chosen device, attach the remote infrared control cable and then hook up the box to your router. If you're using a Slingbox 300, you'll usually use an Ethernet cable to do this. If your router isn't close enough for a cable, or you aren't wired for Ethernet, you can use an adapter or a wireless Ethernet bridge. If you have a Slingbox 500, you can bypass the Ethernet method and connect to your router via your wireless network.
Slingbox Viewing Options
Before you can start using your Slingbox, set up your system on Slingbox.com on a PC or Mac. You must do this on a computer, even if you plan to watch shows only on a mobile device. If you want to watch shows on your computer, you can do it from the site or via a Facebook service. You need to download the SlingPlayer app to use Slingbox on smartphones or tablets. The website service is free, but you have to pay for the app. At the time of publication, this costs $14.99.