A signature block is a block of text automatically attached at the bottom of an email message, usually consisting of one or more lines containing brief information on the author of the message. A good signature block can make an email look more professional and save you the hassle of re-typing common information that you want included in most or all of your emails.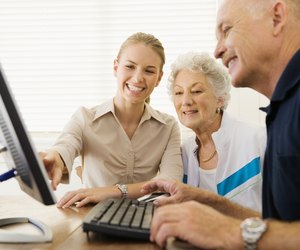 credit: Jupiterimages/Pixland/Getty Images
Step
Open your email client and sign into your account.
Step
Select "Options," "Settings," or "Preferences" and then "Email Signature." (The correct menu depends on your email client.)
Step
Fill in the blank text box with the information that you want to appear in your signature. Stick to a basic font and format that will sign your message succinctly rather than distract readers from your message.
Step
Decide whether your signature block is for business use, personal use or both. Include contact information such as your name, title, phone number, email address or owned URL sites (if applicable) in business signature blocks. Add a quote, picture or link to favorite URL sites in personal signature blocks.
Step
Select the "Automatic" feature that will include the signature on every outgoing message.
Step
Check your signature by sending an email to yourself. Make any changes by returning back to "Options."