As a Mac owner, you can use the Mail application included with the Mac OS X operating system to access email. Mail works with popular email standards such as POP3 and IMAP. It is also compatible with most webmail services, including Gmail, Yahoo Mail and AOL. You can add one account to your Mail program, or add multiple accounts to manage them all from a single location.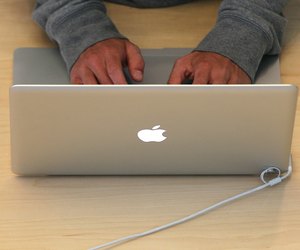 credit: Justin Sullivan/Getty Images News/Getty Images
Step
Click on the "Finder" icon in your Dock. The Dock is a menu of applications usually located in the bottom of your screen or on the left side of your screen.
Step
Select the "Applications" folder from the "Places" menu on the left side of the window.
Step
Double-click on the "Mail" icon from the list of applications.
Step
Enter your full name in the text box. Add your email address and the password associated with the email addresses in the remaining text boxes. Press "Create."
Step
Depending on the type of email address you entered, you will either receive a summary of your account type, or a request for more information. Complete any requested details and press "Create." Your mail will download from the server to your inbox.