The McAfee Security Suite is a comprehensive computer security suite of applications that you can purchase for home or business usage. McAfee bundles the Site Advisor Internet Safety program with the Security Suite in order to provide you added protection against malicious websites when surfing the Internet. When Site Advisor is activated on your computer it will protect web surfing through the Internet Explorer and Firefox web browsers. The application will default to being turned on by default, but you may have a need to activate Site Advisor if it has been turned off.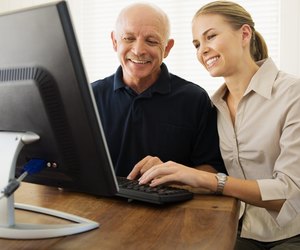 credit: Jupiterimages/Pixland/Getty Images
Step
Open the McAfee Control Panel by double clicking the McAfee icon on your computer's desktop or by selecting "Start->McAfee" from your computer's start menu.
Step
Select the "Internet and Network" menu option on the McAfee Security Center center panel. When you have the McAfee Security Suite installed on your computer, access to the Site Advisor configuration is located under this menu option.
Step
View the status of the McAfee Site Advisor. You will need to select "Enable" to activate the Site Advisor. Exit the McAfee Control Panel and select "Save settings" to keep the Site Advisor application active.
Step
Exit the McAfee Control Panel and open your Internet Browser. You should now see the Site Advisor website protection active showing the ranking of your default homepage.