Adding a CNAME record to your domain's DNS settings allows you to create new variations of your website address in the form of subdomains. For example, adding "blog" as a CNAME for the domain "mywebsite.com" creates the subdomain "blog.mywebsite.com". When a user goes to the new subdomain, she will go directly to the destination you entered in the CNAME record. To create a CNAME record, you must have administrator access to your domain hosting account.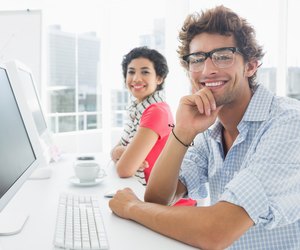 credit: Wavebreakmedia Ltd/Wavebreak Media/Getty Images
Step
Log into your account at the website of the company where you purchased your domain name. If you have a Web hosting account with another company, and you transferred DNS management to the new company's name servers, log into the Web hosting site instead. If you're not sure which company controls your DNS settings, first try the Web hosting company and then the domain registrar.
Step
Find the website's DNS management page. Depending on which company you use, the location of this page on the website will vary. You can often find it by selecting "DNS Management," "DNS Settings," "DNS Hosts," "Zone Editor" or something similar. On some sites, you may have to first select the "Domains" option and then select the name of your domain.
Step
Find the section of the DNS settings page that allows you to add a new record. In some cases, you may need to click "Add Record," "Edit" or something similar. The website will ask you for up to four pieces of information: a record type, a host name or alias, a value or destination, and a time delay or "TTL."
Step
Set the record type to "CNAME," and then enter the new domain prefix in the host name or alias field. For example, if you are creating the "pictures.mywebsite.com" subdomain, enter "pictures" in this field. Do not add a period at the end of your entry -- you DNS editor will do this automatically.
Step
Set the value or destination field to the location or address to which the new subdomain should point. For example, if you are creating a subdomain called "pictures.mywebsite.com" that should point to an image folder on your Web server, you might enter "mywebsite.com/data/images" as the value or destination. You can also point subdomains to other websites. For example, if you have Tumblr blog and want readers to be able to access it from your own website, you might create the subdomain "blog.mywebsite.com". In this case, you would enter "domains.tumblr.com." (including the last period inside the quotes) as the value or destination.
Step
Leave the TTL setting at the default value and then save the new entry. The CNAME record should become active within four hours, although it can sometimes take up to eight hours for the new information to propagate to all of the other DNS servers on the Internet.