Navigating a Netgear router can be difficult once you've lost the manual with the default password and IP address. However, adding a personalized password to your network is simple once you have the universal access codes. Add a personal password to your Netgear to ensure that only you and those you give the password to can access your network.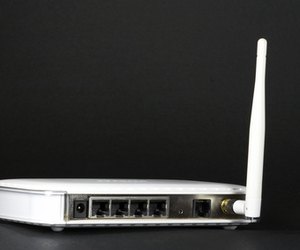 Step
Make sure your router is connected to your computer either through an Ethernet cable or wireless connection.
Step
Enter the default NETGEAR IP address into your web browser: http://192.168.0.1 or http://192.168.1.1.
Step
Enter the default username "admin" and password "password" when you are asked to enter a username and password. Enter these in all lower case letters and without the quotation marks.
Step
Locate the last username and password created or restore the router to its factory settings if "admin" and "password" don't work. Restore your router by pressing the reset button on the back of the router for about 10 seconds until the test light blinks. Wait for router to reboot. Log in now with the default username and password.
Step
Select "Wireless Settings."
Step
Go to "Wireless Network" and enter a network name. Make the network name memorable and personal so that you will know it's yours.
Step
Go to "Security Options" and select WPA-PSK [TKIP] + WPA2-PSK [AES].
Step
Enter a personal network password. Make the password memorable to you but personal enough so that no one can guess it. Enter this password into the "Passphrase" box.
Step
Write down your password on a sheet of paper and keep it in a safe place.
Step
Go to "Apply" and click it to save your new settings.