A large number of computer users purchase and use Norton security products. When you or your family have multiple computers, Norton allows you to use many of their products on up to three computers without an additional charge. You will need to install Norton on the subsequent computers within 60 days of your purchase, however, to avoid having to pay an extended download service fee to Symantec.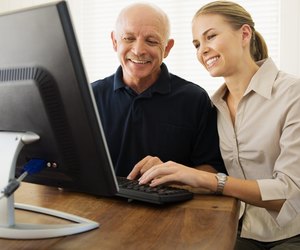 credit: Jupiterimages/Pixland/Getty Images
Step
Open the "Symantec Store Order Status" webpage listed as resource number one at the bottom of this article on the computer you are going to add the Norton product to.
Step
Input your Symantec log-in and password created when you purchased your Norton product or the order number and password. Your order number can be found by using the email address that you used to register the product when purchased.
Step
Select the Norton product order that you intend on installing on the new computer.
Step
Click the "Start Download" menu option. If it has been more than 60 days since you completed your Norton product purchase, you will need to click the "Buy Extended Service" option and then download the program to the new computer.
Step
Install the Norton program after download has completed and Norton will be installed on the new computer. Once you have installed Norton three times, their system will require that you purchase new product keys for subsequent computer installations.