Word processing software like Microsoft Word often comes preloaded with templates to design many different types of documents, including address labels and envelopes. These templates make it easy to create professional-looking envelopes just by typing in the desired delivery and return addresses. The advent of electronic postage simplifies the mailing process even further, as Microsoft Office can connect to several different electronic postage applications to print postage directly onto the envelope and skip the post office.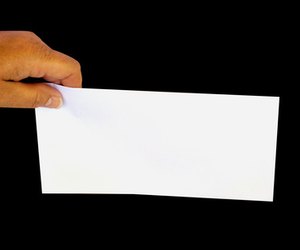 Step
Open Microsoft Word.
Step
Open the Tools menu.
Step
Open the "Letters and Mailings" submenu and select "Envelopes and Labels."
Step
Select the Envelopes tab.
Step
Enter the delivery and return addresses in the respective boxes.
Step
Hit the "Options" button, customize the options to match the exact size of the envelopes you wish to use, and click "OK."
Step
Feed the envelope to the printer and click the "Print" button.