Outlook 2013 does not allow you to attach an entire folder to an email like with a file and adding each individual file in the folder to the message can be tedious depending on the number of files. The solution is to first archive the contents of the entire folder into a single file which can then be attached to the email. The recipient has to extract the contents of the archive after receiving the email, but the directory is recreated exactly as it was on your own system.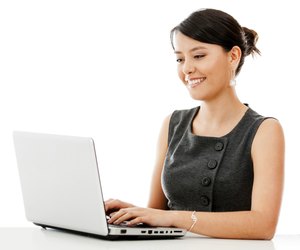 credit: andresrimaging/iStock/Getty Images
Step
Type "File Explorer" (without the quotation marks) on the Windows 8.1 Start screen and press "Enter."
Step
Select the folder that you want to attach and then select "Share" from the ribbon.
Step
Select "Zip" and then press "Enter" to use the name of the folder as the archive name.
Step
Open Outlook 2013 and select "New Email."
Step
Complete the To and Subject fields and then type your message in the body of the email.
Step
Select "Insert" and then select "Attach File." Select the ZIP archive of the folder you created and then select "Insert" to attach it to the email.