Owning an online casino is a dream for many entrepreneurs. Many people have started with nothing but an idea and a small budget, and built a multi-million dollar fortune in the online gambling industry. Many have enjoyed even larger success, such as BoDog CEO Calvin Ayre, who was featured in a billionaires piece in Forbes magazine. Follow this quick and easy guide to learn how to build an online casino website of your own.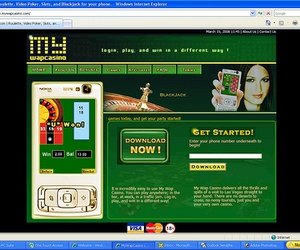 Step
Write a business plan to detail how your venture will be run, how you will advertise your brand and how you will deal with challenges that you expect to face. You can download free business plan templates from a number of places online.
Step
Decide what country you would like to operate in. It will need to be a location that issues licenses for online gambling companies. Some countries, such as Antigua, offer well-regulated casino licenses for rates above $100,000. Others, such as Khanawake and Curacao, offer licenses for $10,000. A small number of jurisdictions, such as Costa Rica, do not issue a specific license for online casinos, but allow these companies to operate without a license. You can get more information about your licensing options at the Gambling Licenses website.
Step
Select a software package to power your online casino website. There is software available for casino games, sports betting, poker or a combined package that incorporates all of these. There is a large number of software options. Microgaming, Cryptologic, Playtech and Boss Media have traditionally been the primary options for those looking for casino software to use.
Step
Set up online payment mechanisms to provide players with a method of depositing and withdrawing funds. Credit card processing is one key element, but may not be an option for customers who reside in the United States. Opening a merchant account at various online payment networks is essential to the successful operation of your casino. Neteller.com and Click2Pay.com are two of the largest payment networks that provide service to the online gambling industry.
Step
Hire a web developer to design the front-end website. The website should pull your software and payment mechanisms together in a format that the consumer will recognize and be receptive to. You do not necessarily have to hire a company (or individual) with experience in building casino websites. Alternatively, you can also purchase a pre-designed casino template from sites such as Templatemonster.com.
Step
Develop an advertising strategy to promote your website. Print ads in gambling magazines, radio and television advertising are good choices. Another popular choice for is to take advantage of affiliate marketing tactics. This is where other webmasters will place banners on their website to advertise your casino, and will be paid a commission on each player that they refer to the site.