The Personalization menu of Windows 8 enables you to customize many aspects of your computer. One of the available settings is the window border color, which applies to the taskbar and the area around open windows. There are two ways to change this color: automatically or manually. The first method analyzes your desktop picture and chooses a color that matches the image. If you want more control, you can use the manual option to set the color yourself and to adjust the exact appearance of the taskbar.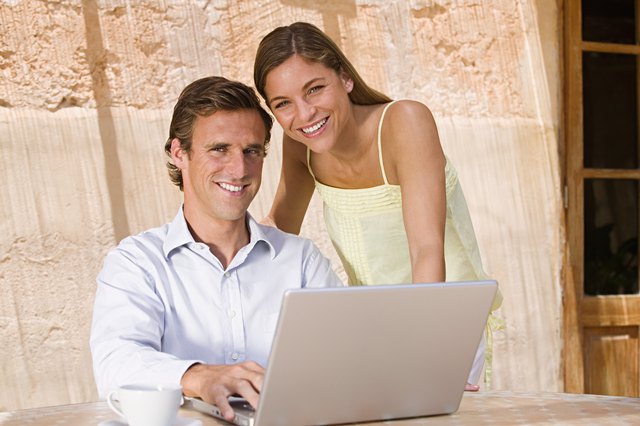 credit: Image Source White/Image Source/Getty Images
Step
Swipe in from the right edge of the screen to display the Charms bar. If you are using a keyboard, you can also press the "Windows-C" key shortcut. Choose "Search" and enter "Personalization" in the search area.
Step
Click "Settings" in the search results list and select "Personalization." A list of customization options and existing themes appears. Select "Unsaved Theme" to adjust how Windows appears.
Step
Choose "Color," which is located near the bottom of the screen. If you want Windows to intelligently adjust the taskbar color based on your background picture, click "Automatic" near the top left corner of the window. Press "Save Changes."
Step
Click one of the colored boxes to manually set the taskbar color. Move the "Color Intensity" slider left or right to adjust the brightness of the color. Remember that the Windows taskbar is somewhat transparent and any color you choose will appear slightly faded.
Step
Press "Show Color Mixer" to reveal additional color options and fine-tune the exact color of the taskbar. Move the "Hue" slider to choose the basic color. Adjust the "Saturation" and "Brightness" sliders until the taskbar is the exact shade that you want. Click "Save Changes" when you are satisfied.