As you write documents that are going to be seen by other people, you want to check your writing to ensure that it makes sense grammatically. Perhaps you are composing an essay for school, creating articles for your website or working on a business project. No matter the need, you can use an online writing support tool to check your grammar and sentence structure so that you can present your writing in the best way possible.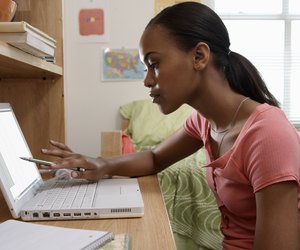 credit: James Woodson/Digital Vision/Getty Images
Access an online writing support tool like EssayRater, GrammarCheck, Grammarly or WhiteSmoke (see Resources).
Copy and paste your text into the provided text boxes and click the "Click Here to Search," "Start Review" or "Check" buttons to review your content. If you are using EssayRater, click the "Sign Up" link, fill in the required prompts, paste in your text in the text box and click the "Start Review" button. For best results, enter at least one paragraph to get an accurate assessment.
Review the results pages by looking for any underlined words that are potential problems in grammar or sentence structure. Alternately, EssayRater and Grammarly provide a detailed list of the errors found and GrammarCheck displays a list of linked articles that discuss the types of issues found in your text.