Apple products come with a standard warranty that can be extended through the purchase of an AppleCare plan. Whether your product has the standard warranty or an extended protection plan, you only need your product's serial number to check when your hardware support and telephone support options expire. At the warranty status page on Apple's website, you can request support through a variety of online and offline methods, as well as set up an appointment at an Apple Store for necessary troubleshooting and repairs.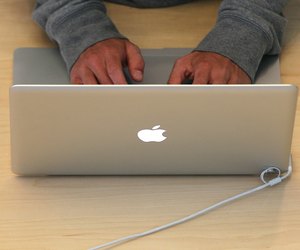 credit: Justin Sullivan/Getty Images News/Getty Images
Step
Locate your product's serial number. It's located on the back or bottom of most products, including Apple TV, iOS devices, mice and keyboards. You can find your Apple computer's serial number through the "About This Mac" option on the Apple menu. The serial number is also visible on the packaging of most products.
Step
Visit the Apple website's "Check Your Service and Support Coverage" page (link in Resources).
Step
Type or paste your device's serial number in the box and click "Continue." The Apple website then shows which support options are available for the product and which are and aren't covered under your warranty. The estimated expiration dates for telephone support and repairs and services are shown.