Everybody appreciates good sound quality, but extremely high-quality audio consumes inordinate disk space and also takes up a lot of bandwidth when you stream it over the Internet. People therefore often compress their audio files for general use, especially for uploading to the Web. The more efficient "lossy" audio compression methods rely on the fact that most music contains sound that the human ear barely hear, or can't hear at all. Removing these sounds reduces the file size, allowing for massive compressive efficiencies with minimal quality loss. "Lossless" compression eliminates any quality loss, but with much smaller efficiencies.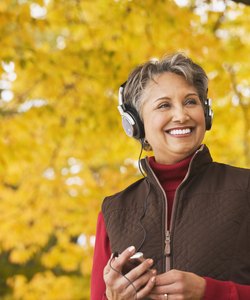 credit: Don Mason/Blend Images/Getty Images
In iTunes
Step
Launch iTunes, then click "Edit | Preferences | General | Import Settings."
Step
Select the new audio file format to which you want to convert your existing audio file. Choose the lossy format of your choice, such as MP3, OGG, AAC and WMA.
Step
Select the files you want to convert from your iTunes library; you can choose more than one at a time if you want.
Step
Click "File" on the menu, then click "Create New Version" and finally click "Create Format Version."
In VLC Media Player
Step
Launch VLC Media Player. VLC is a free, open source, cross-platform media player that offers an alternative to proprietary players like iTunes.
Step
Click "Media" on the menu, then click "Convert / Save." Click on "Add" and select as many files as you want to convert, then click "Convert / Save."
Step
Click the "Profile" drop-down menu and choose the lossy audio file format to which you want to convert the existing audio files.
Step
Click on the Edit Selected Profile button, marked by a screwdriver and wrench icon, immediately next to the drop-down menu. Select the "Audio Codec" pane. Choose the specific audio codec you want -- note that you have more options here than on the main profile drop-down menu.
Step
Set the bitrate and sample rate as far down as you want. The farther you go, the smaller the file will be, but the quality of the audio will also be lowered. If you want further savings, you can also shrink the number of channels to two for simple stereo or one for monoaural.
Step
Click "Save" when you're finished.
Step
Choose the destination directory for the converted files, then click "Start" to begin the conversion process.