While most home networking is done through a router with multiple Ethernet cables, you may not need to purchase all that equipment if you only have two computers that need to transfer files to and from each other. You can network two computers directly together using a single local area network (LAN) cable known as a crossover cable.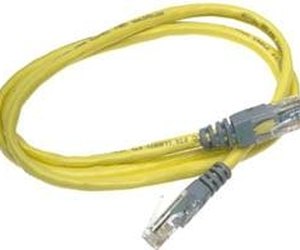 Step
Measure the distance between the two computers and write down the length. Purchase an Ethernet crossover cable that is slightly longer than the measured length (see Resources below).
Step
Power off both computers completely. Connect one end of the crossover cable to the Ethernet network port on the back of one of the computers. Run the cable across to the other computer, and connect the other end into the computer's Ethernet port.
Step
Turn both of the computers back on, and wait for their operating systems to finish loading. Click on the "Start" button on either of the computers and then choose the "Control Panel" option. Scroll down through the list of options, and click on the icon labeled as "System."
Step
Wait for a new window to pop up asking if you want to proceed, and click on the "Continue" button. Scroll down to the "Computer Name" heading, and write down the entry listed under "Workgroup."
Step
Go to the second computer, and access the System menu in the Control Panel. Scroll down to the Computer Name heading, and click on the "Change" button. Type in the work group name you wrote down earlier in the "Workgroup" text box. Click on the "Apply" button.
Step
Restart the computer to save the workgroup change. Navigate back to the Control Panel, and click on the "Network and Sharing Center" icon. Choose the "View Computers and Devices" option to gain access to the other computer's files and folders.