To achieve maximum download speeds in Vuze or any other peer-to-peer program, you need to be fully connectable. If peers cannot connect to you, either the tracker is down, there aren't enough peers/seeds or you are behind a firewall. The first two issues typically yield no connections at all, although the low peer problem may resolve itself if you leave Vuze running long enough. Firewalls can be circumvented by opening ports to allow the incoming connections.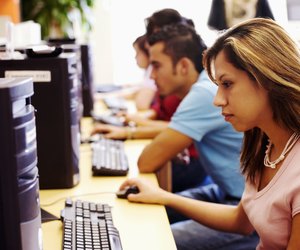 Step
Launch Vuze from the Start menu. Click on "Tools" and go to "Options."
Step
Select "Connection" from the left window.
Step
Write down the ports listed for "TCP Listen Port" and "UDP Listen Port." Click the "X" to close the window.
Step
Open a browser and type the internal IP address for the router's administration page in the navigation bar. If you are not sure of the IP address, check the documentation supplied with your router.
Step
Log in to the router's administration page using the default username and password. You can look these up on the "Default Router Passwords" page at Portward.com.
Step
Open the "Firewall" or "Security" tab and click "Settings." The exact procedure for accessing the Settings options will vary, depending on your router brand and model.
Step
Choose your computer from the drop-down list, if applicable, and then click "Allow Individual Applications." Click "Add a New User-defined Application." If you see Vuze is already in the list, select it, and click "Edit."
Step
Enter a name in the box to help you remember the purpose of this connection – for example, enter "Vuze," "File Sharing" or "Azureus."
Step
Type the port number you wrote down earlier in the two "Range" boxes.
Step
Click "Add Definition" and then click "Back."
Step
Click "Done" to confirm. Restart Vuze. Click "Help" and select "NAT/Firewall Test."
Step
Click "Test" and wait for the results. Vuze should report, "Everything is OK." If not, log back in to your router and double-check your settings.