The MP3 file format has revolutionized the music industry, making it possible for music collectors to store thousands of songs on their computers. Thanks to inexpensive personal audio players such as the iPod, all those songs can even travel with you, entertaining you wherever you go. Converting CD audio (CDA) to the MP3 format can be done in just a few minutes.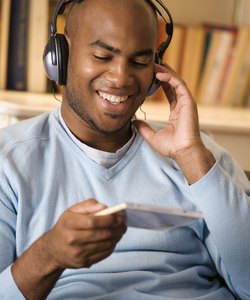 credit: BananaStock/BananaStock/Getty Images
Converting with iTunes
Step
Launch iTunes. Click "Edit," then "Preferences." In the window that appears, ensure that the setting next to "When you insert a CD" says "Ask to Import CD."
Step
Click on the "Import Settings" button.
Step
Click on the drop-down menu next to "Import Using" and change the setting to "MP3 Encoder."
Step
Click on the drop-down menu next to "Setting" and choose a quality level. The higher the level, the more hard drive space the resulting MP3 files will consume. A 45-minute CD requires about 43 MB of space using the 128 kbps quality setting or 64 MB at 192 kbps.
Step
Click the check box labeled "Use error correction when reading Audio CDs" if any of the discs you want to import have light scratches. This setting might cause CD audio to import more slowly, but it can help correct problems resulting from scratched discs. Click "OK" and close the Preferences window.
Step
Insert a CD into your computer. A prompt window will ask whether you want to import the CD into your iTunes library. Click "Yes." ITunes will read the CD and convert the data to MP3 files. To select individual tracks, click "No" in the popup window and uncheck the files you don't want to convert. Click the "Import CD" button to convert the checkmarked files.
Converting with Windows Media Player
Step
Launch Windows Media Player. In the Tools menu, select "Options" and go to the Rip Music tab.
Step
Click on the drop-down Format menu and select "MP3." Make sure "Rip CD automatically" is unchecked.
Step
Choose a quality level by adjusting the Audio Quality slider. Lower quality is to the left, and higher quality is to the right.
Step
Insert a CD into your computer. A track listing will appear automatically. Click on "Rip CD" to copy and convert all the tracks into the MP3 format. To rip individual tracks, uncheck the ones you don't want to copy before clicking on "Rip CD."