Microsoft PowerPoint is a program that allows users to create and display slides for meetings and presentations. In addition to displaying the presentation on your computer screen or a projector, you can also print the slides or upload them online. When you need to display or email only one or two slides to someone online, it's best to convert the slide to an image file, like a JPG, and then upload it to your web server or attach it to an email message.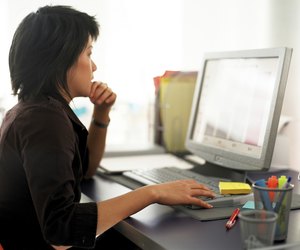 credit: Ablestock.com/AbleStock.com/Getty Images
Step
Scroll through the Microsoft PowerPoint presentation and display the slide that you want to convert to JPG format on your screen. If you want to convert all of the slides to individual JPG files, there is no need to go to any specific slide.
Step
Go to "Save As" on the Microsoft PowerPoint main menu. Navigate to the folder where you want to save the new JPG file and type in a name for the file in the "File name" box.
Step
Click the arrow next to the "Save as type" drop down box and find "JPEG File Interchange Format." Click "Save;" this will bring up another dialog box.
Step
Choose "Current Slide Only" if you only want to convert the slide that you selected in step one, or click "Every Slide" if you want to convert the entire presentation. The program will save the file as a JPG file and deposit it on your hard drive.