You can import VCF contacts directly into Thunderbird using the program's Import tool. Exporting contacts is a little more complicated. In order to get contacts from your Thunderbird address book and into the VCF format, export them as a CSV file and then convert them using a free CSV to VCard conversion program.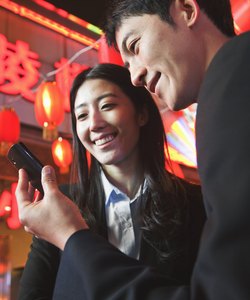 credit: XiXinXing/XiXinXing/Getty Images
Importing VCF Contacts
Step
Click "Tools" on the main menu in Thunderbird and select "Import."
Step
Select the "Address Book" radio button and click "Next."
Step
Select "VCard File (.vcf)" on the list of available formats and click "Next."
Step
Browse to the VCF file you want to import, select it and click the "Open" button.
Step
Click "Finish" to import the contacts into your Thunderbird address book. [refs 1, 2]
Exporting Contacts to the VCF Format
Step
Open the Address Book in Thunderbird, click "Tools" and select "Export."
Step
Enter a name for your exported contacts file in the Save As field. All contacts are saved into one combined file.
Step
Click the "Format" drop-down menu and select "Comma Separated."
Step
Browse to the location on your computer where you want to save the exported contacts and click "Save" to export your address book. Contacts are saved together in a Comma-Separated Values, or CSV, file. Remember where you saved this file as you will need to access it again.
Step
Download and install the free CSV to VCard application (link in Resources). Versions are available for both Windows and Mac OS X.
Step
Open CSV to VCard software.
Step
Click the "Browse" button next to the CSV File field and select the CSV file you exported from Thunderbird.
Step
Select either the "VCard File" or "VCard Folder" radio button, depending on whether you want to save your contacts as one VCF file or as individual VCF files together in a folder.
Step
Verify that the values in the CSV Field and VCard Property columns match up. The First Name field in one column should be located next to the First Name field in the other column, for example. Rearrange the rows so that they match, if necessary.
Step
Click "Convert" to convert your Thunderbird contacts to the VCF format.