WP3 files are associated with Microsoft Photo Story. Photo Story for Windows is a simple tool for making slide shows from your digital photos. You can perform basic edits and include transitions between the photos. The WP3 extension is the file type for your Photo Story project; this file itself cannot be converted to other formats. To convert a WP3 to a WMV, you must open the WP3 file in Photo Story, then export the slide show as a video. Converting to Windows Media Video (WMV) is useful because it will have cross-application support, and generally be more compatible. If someone sent you a WP3 file, you cannot change it into a WMV. WP3 files are only project files and do not store all the photographs in them, so only the original creator of the WP3 can convert the file into a WMV file.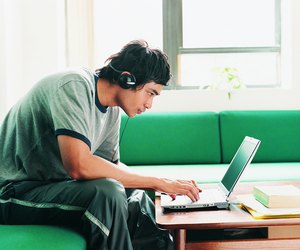 credit: Digital Vision./Digital Vision/Getty Images
Step
Open your WP3 project file in Photo Story by double-clicking it in Windows Explorer. Alternatively, in Photo Story, click "File," then "Open." Locate your WP3 project and double-click it to open.
Step
Click "Save Project" at the bottom of the project window.
Step
Select "Save our story for playback on your computer." Click "Browse" and choose a location for your saved file to be stored. Click "Next." Wait for Photo Story to make a WMV from your WP3 project.
Step
Click "View your Story" or "Exit" once the project save is complete. You have now converted a WP3 project file to WMV using Photo Story 3.