Creating a slideshow with your favorite photos in the iTunes application is a great way to show off photos from any type of special event. As long as you have iPhoto and iTunes applications it's just a matter of uploading, choosing the photos you want to use in the sequence you want to use them. As an added bonus, you can use the music in your iTunes as background music when the slideshow plays.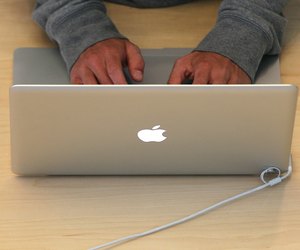 credit: Justin Sullivan/Getty Images News/Getty Images
Creating a Slideshow
Step
Begin by uploading photos from your digital camera into iPhoto. This is as simple as inserting the USB cable into your digital camera and plugging the other end into your computer. The iPhoto application should open immediately and prompt you to upload your photos. Once this process is finished, stay in iPhoto, click on LIBRARY in the upper left corner and choose the individual photos or albums you'd like to view in your slideshow.
Step
Next, go to the toolbar located on the lower sections of the iTunes screen. The third icon from the left is SLIDESHOW. Click on it to prompt the slideshow settings. This will include effects, transition, timing, music and the option for the Ken Burns effect. The Ken Burns effect brings motion to the images that you select by moving them toward the screen between transitions.
Step
To add music to your slideshow, click on the music icon and choose the music from your iTunes that you'd like to play during the slideshow. Make sure to check the PLAY MUSIC DURING SLIDESHOW box to enable the music to play. Now that you've completed putting together the photos and music, click PLAY to watch it on the full screen of the computer.