Microsoft Word offers many preformatted templates that may be used to create documents and forms. If you are unable to locate the template you want within the program, you may download others for free from Microsoft online. These instructions are for Word 2007; a free trial is available as part of the Microsoft Office suite (see Resources for link).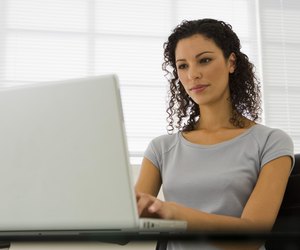 credit: Pixland/Pixland/Getty Images
Step
Open the Microsoft Word program. Use the Windows "Start" button to select "All Programs." Select "Microsoft Word" from the "Microsoft Office" folder.
Step
Click the Microsoft Office button in the upper left corner of Word, then select the "New" option. This will launch a separate "New Document" pop-up menu.
Step
Type "order form" in the "Search" field at the top of the New Document" window and click on the "Search" arrow. This will generate thumbnails of preformatted order forms under "Search Results." Click on any form to view a larger preview in the pane on the right.
Step
Click the "Download" button under the form preview. The template will appear as a new document in Word.
Step
Edit the order form, as necessary, to suit your needs. To replace text, highlight and type over it. When you are satisfied with your order form, click on the Office button, then select "Save As." Type the name of your document in the "File Name" field. Click the down arrow at the right of the "Save As Type" field to select the type of document. If you want to save it for future use, select "Template." If you want to use the original template (before your changes) again, a copy is automatically saved your "My Templates" folder.