Sometimes while browsing the Internet, you find a picture that you would like to make into your desktop wallpaper, or perhaps you'd like to use a picture that you took with your digital camera. Either way, it must be properly formatted to fill your computer screen. With some modification, you can create desktop wallpaper out of any digital image no matter what the resolution of your computer monitor.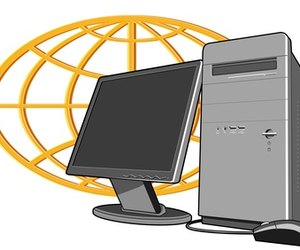 Creating Desktop Wallpaper for Any Resolution
Step
Find out the resolution of your computer. Minimize all applications and right click on a blank area of your screen. Click on "Properties" from the menu that pops up, then click on the "Settings" tab on top of the pop up box. Write down the screen resolution that your computer is using (e.g., 1064 x 768).
Step
Choose a digital image or photo to change into wallpaper.
Step
Open the digital image using a graphics program. One free, down-loadable program that can be used is paint.net. Regardless, the steps will be similar with any program.
Step
Go to "File" and click "Open." Browse through your computer until you find the picture you want to re-size and click "Open."
Step
Re-size the picture to match the resolution that you found in step 1. Click on "Image" in the menu bar along the top of the program and select "Re-size." Then, click on "Absolute Size" and check the "Maintain Ratio" box. This option will keep your picture from becoming distorted when your re-size it. Type "1064" in the width box (or use whatever screen resolution you found in step 1) and "768" in the height box (or use whatever screen resolution you found in step 1). Click "OK" to accept the changes.
Step
To save the re-sized image, click on "File," then "Save As," and select a location to save the file. It is easiest to put it on your desktop; this way, the file will be easy to find.
Step
Close or minimize all of the open programs running on your computer.
Step
Right click on an empty area of your desktop and select "Properties." Navigate to the "Desktop" tab and click on it. Click "Browse" and find the file that you just saved. Select the file and click "OK." This will set the picture as your computer wallpaper.