Apple Macs have a different operating system from Windows computers, namely OS X or Leopard. Although most people are now familiar with Microsoft's Office program and Excel, which has become synonymous with spreadsheets, not many know that Mac computers also offer this service. The program used on a Mac is called Numbers. It is part of the iWork package offered by Apple. With this program, a Mac user can create spreadsheets as well as open those created in another program, such as Excel.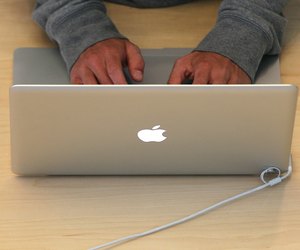 credit: Justin Sullivan/Getty Images News/Getty Images
Step
Install the Numbers program; if necessary, either from a download or from disc. Click on the icon on your dock to start the program. If it is the first time you have opened Numbers, you may see a tutorial page. Either view the video or click "Close" to continue.
Step
Select the template you wish to use from the chooser. Spreadsheets are listed by category on the left, and you can see a preview on the left. Choose the template that suits your needs or select a blank spreadsheet.
Step
Insert the date that you want into the cells. Cells are divided in alphabetical columns and numerical rows. You can use the toolbar at the top to select formatting options, or use the drop-down menus on the status bar.