At first glance, Windows 8 -- unlike previous versions of the operating system -- seems to be missing the Disk Defragmenter. The utility, however, has not been removed from Windows 8 -- it is now called Optimize Drives. Similar to previous versions, Windows 8 automatically defragments your computer's hard drive on a set schedule. However, if you suspect your computer is slowing down because of fragmentation, you can manually defragment your drive at any time by accessing the Optimize Drives utility.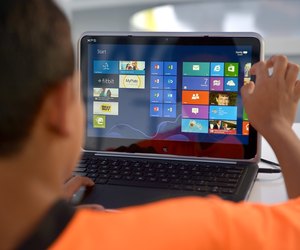 credit: Charley Gallay/Getty Images Entertainment/Getty Images
Step
Press the "Windows" key; then type "Defragment."
Step
Select "Defragment and Optimize Your Drives" from the Results list to open the Optimize Drives utility.
Step
Choose the drive in the Status box that you want to optimize, then click the "Analyze" button. Windows runs a scan to determine the percentage of the drive that is fragmented.
Step
Check the Current Status column after the analysis is complete to determine if you need to optimize the drive. If the column shows that your hard drive is less than 10 percent fragmented, you don't need to run the optimization process.
Step
Click the "Optimize" button if you determine that your hard drive is too fragmented.