Instagram users add 40 million photos to the photo sharing social network every day. If you are an active contributor to that statistic, you can find yourself with an impressive backlog of photos that you no longer want on your profile. Instagram does not let you select all the photos you would like to remove and then delete them all at once. However, it does give you a faster way to delete photos than loading photos for deletion one at a time.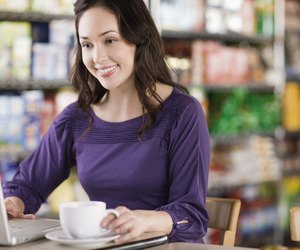 credit: Jupiterimages/Brand X Pictures/Getty Images
Step
Open your Instagram app and sign into your account.
Step
Tap the button on the furthest right along the bottom of the screen to bring up your photos, and then tap the button above the photos that is labeled with three horizontal lines.
Step
Scroll down the list of your photos until you see a picture you want to delete, and then tap the button under the right side of the photo labeled with three dots.
Step
Tap the "Delete" button, and then tap the "Delete" button again in the window that pops up to confirm that you want to remove the picture.
Step
Repeat steps three and four until you have deleted every picture you wish to remove.