The Facebook virus is typically spread through an email or a wall post from one your Facebook friends. Viruses such as Koobface hack into one of your friend's Facebook accounts and may send you the following messages: "You've been caught on a hidden camera," or "You just look awesome in this new video." While there is no single solution to this problem, you can follow a few steps to get rid of a Facebook virus.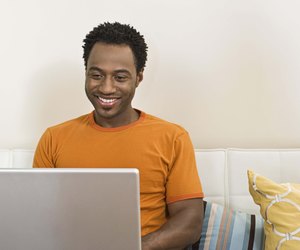 credit: Jupiterimages/Brand X Pictures/Getty Images
Step
Change your Facebook password. Click on the link "Account" at the top right corner of your homepage and select "Account Settings." Click on "Change" under "Password." Choose a password that involves both letters and numbers to enhance security strength. This step will prevent the virus from spreading to your friends' computers. Close down your browser.
Step
Restart your computer in "Safe Mode." Press the "F8" key repeatedly during startup until you get to the Boot Menu. Use the arrow keys to select "Safe Mode." Press the "Enter" key.
Step
Launch "Task Manager" by pressing "Ctrl"+"Alt"+"Delete" keys. Click on the "Processes" tab. Scroll down through the list to find any suspicious process that has the word "Facebook" or "face" or "koobface" in it. Select such processes by single-clicking, then click the "End Process" button at the bottom.
Step
Install an antivirus program. AVG, Avast, Avira and Norton are some of the many brands that offer free trial editions and in some cases, even free versions. Click on the link in the "Resource" section of this article to make a selection.
Step
Run a complete scan of your computer. Your antivirus program should be able to detect and remove any Facebook related virus that may have entered your system. Repeat this step at least two times a week to secure your computer and Facebook account from future viral attacks.